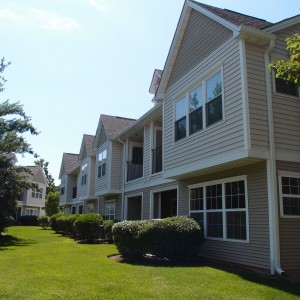 Welcome to the Mews at Allwood! The Mews is a 128 unit condominium community in Clifton, New Jersey consisting of 32 single-level ranch units and 96 two-story townhouses spread across 16 buildings.
We enjoy an exceptional location, secluded, yet located within walking distance to major bus transportation as well as many of your shopping needs and a short drive to local train stations.
The Mews is located at the intersection of Bloomfield Avenue, Market Street and Brighton Road in Clifton. We are hidden behind the Allwood Atrium office complex on 10 acres of beautifully landscaped grounds.
Each unit has its own outdoor patio or above-ground deck and a garage. There is ample parking for additional cars and your visitors. Each individual unit has a gas burning fireplace to warm you on those cold winter nights and central air-conditioning to keep you cool throughout the summer months. Planting berms between each building offer privacy and provides a park-like setting for all to enjoy.
We are always looking into providing activities to bring our community together and encourage our owners' comments and suggestions. You can join our walking group that strolls the complex most evenings or grab a cup of coffee and sit with friends in our cozy little park area.
We are a pet-friendly community.  We can boast to have one the lowest monthly maintenance fees in the area and a dedicated board that is very involved in the management of the complex.